| | |
| --- | --- |
| | Andrew V. Balandin |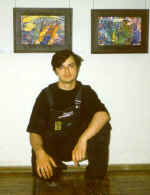 Andrey (Andrew) V. Balandin was born on January 18, 1968 in the city of Yekaterinburg, Russia. He graduated from Yekaterinburg Artist College in 1987. Member of the Union of Russian Artists since 1996. Lives in Yekaterinburg. Position: Chief artist of DELRUS Inc.
Andrey is a participant of various domestic and foreign art exhibitions. His paintings are kept in museums and private collections in Russia, Great Britain, Spain, Italy, Belgium, Germany, France, Holland, Czechia, Canada, the USA.
Phone: (+7 3432) 462909 (private), 206661 (office)
Fax (+7 3432) 206633 E-mail: tagr@delrus.ru

| | | |
| --- | --- | --- |
| Flautist. 1999. P.,   mixed technique 30*40. | Drunkard. 1999. P.,   mixed technique 30*40. | Dictator. 1997. P.,   mixed technique 30*40. |
| | | |
| --- | --- | --- |
| Kiddy. 1997. P.,   mixed technique 30*40. | Healing beverage. 1997. P.,   mixed technique 30*40. | Two fishermen. 1996. P.,   mixed technique 30*40. |
| | | |
| --- | --- | --- |
| First pancake. 1993. P.,   mixed technique 30*40. | Fungiman. 1993. P.,  mixed technique 9*12. | Friday. 1995. P.,  mixed technique 30*40. |