| | |
| --- | --- |
| | Gennadiy Subbotin |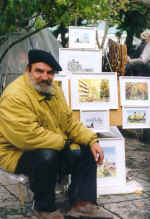 Gennadiy Georgievich Subbotin
Lives and works in Ekaterinburg. Graduated the Evening School of Arts, for many years worked as an artist in ROSBYTRECLAMA company. The favotite theme are the "Views of the City". Fond of travelling and studying the history of the cities. Well known is his water colors cycle "From Ekaterinburg History", tempera technique "Verhoturye" and "Views of Italy". Participant of the city and regional exhibitions. The works can be found in private coleections in Russia and abroad.
| | | |
| --- | --- | --- |
| Views of Ekaterinburg. Ural Military Distric Headquarters. Paper, water colors. 21õ28 1995. | From the History of Ekaterinburg. Paper, water colors. 27õ35 1995 | View of Italy. Pisa. Paper, water colors. 21õ28 1997 |
| | | |
| --- | --- | --- |
| View of Italy. Assisi. Color paper, tempera. 41õ29 1997 | View of Italy. Assisi. Paper, water colors. 20õ31 1997 | View of Italy. Assisi. Col. paper, water colors, whiting. 21õ29 1997 |
| | | |
| --- | --- | --- |
| Verhoturye. Paper, water colors. 50õ60 1997 | From the History of Ekaterinburg. Paper, water colors. 27õ21 1995 | Views of Ekaterinburg. House of Ipatyev. Paper, water colors. 30õ40 1990 |
| | | |
| --- | --- | --- |
| Views of Italy. Venice. Triptich, right part. Cardboard, tempera, pastel. 26õ42 1997 | Views of Italy. Venice. Triptich, central part. Cardboard, tempera, pastel. 51õ48 1997 | Views of Italy. Venice. Triptich, left part. Cardboard, tempera, pastel. 26õ42 1997 |