| | |
| --- | --- |
| | Natalya Subbotina |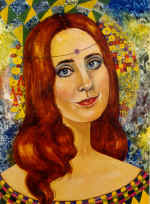 Natalya Fedorovna Subbotina
Lives and works in a city of Ekaterinburg. Graduated Evening School of arts and Theatrical College in 1974, then studied at Leningrad Theater, Music and Cinematography Institute at the "artist-sculptor" division. Graduated Ural State University in "History of Arts" in 1986. Performs exhibitions since 1971. While working on TV and movie studio, took part in many exhibitions as a theatrical and cinema artist.
Performs personal exhibitions and poetic performances since 1990. Works in various techniques - oil, water colors, application, monotype, drawing. The works are located in private collections in Russia and abroad.
The first poetic collection "Verses of Natalya Subbotina", illustrated by the author, was published in 1997.
| | | |
| --- | --- | --- |
| "Meditation" Cycle "Insight" Triptich Colored cardboard, tempera Left part 40õ60 1992 | "Meditation" Cycle "Insight" Triptich Colored cardboard, tempera. Central part 40õ60 1992 | R. Kipling, Illustrations. The Butterfly that Stamped. Paper, tempera. 24x33 1976 |
| | | |
| --- | --- | --- |
| Pending for Krishna. Paper, water colors, gouache. 35x47. 2000 | Poetical Self-portrait. Paper, water colors. 34õ47 1998 | Pierro's Transformation (sketch of a music-hall turn). Paper, tempera. 60õ80 1981 |