| | |
| --- | --- |
| | Alexander Karagyaur |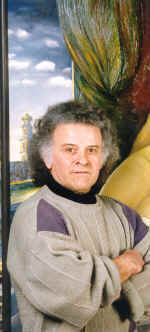 A.G. Karagyaur was born on 1 April, 1936 in the settlement of Aktash, Djankoi region of Crimean into the large family of a famer. In 1943 he was sent to Urals, Beloruski region, state fart Hramtsovo, where he graduated from the secondary school.
In 1953 graduated from the craft school in city Kamensk-Uralsky, upon graduation he was assigned to the VIZ plant. In 1955 studied in the studio, Gorkiy Palase. In 1958 finished two years couse of the artist designer. In 1964 graduated from evening Art Scool of Hozhatelev. In 1965 was the participant of Regional Exhibition for the first time. In 1967 the participant of Zone exhibition. In 1989 was joined to the members of Union of the Artists.
The participan of town, republican, all-union and International Exhibitions. His works are in the Ekaterinburg museum of Fine Arts, gallery of Modern Art "Ester".
| | | |
| --- | --- | --- |
| "Autumn" canvas, oil, 97õ100, 1995ã. | "Tiyn-Shan mountains", canvas, oil, 120õ151, 1998ã. | "Spring" canvas, oil, 86õ140, 1996ã. |
| | | |
| --- | --- | --- |
| "Warm evening"canvas, oil, 149õ121, 1993ã. | "Chusovay river" canvas, oil, 120x130. 1978ã. | "Eternity of revival", canvas, oil, 170õ139, 1992ã. |
| | | |
| --- | --- | --- |
| "Town nook" canvas, oil, 93õ82, 1990ã. | "March snow", canvas, oil, 70õ80, 1994ã. | "Silva riverquot; canvas, oil, 43õ52, 1985ã. |
| | | |
| --- | --- | --- |
| "Field flowers", canvas, oil, 67õ51, 1994ã. | "Flaxs", canvas, oil, 66õ56, 1994ã. | "Roses", canvas, oil, 64õ75, 1994ã. |
| | | |
| --- | --- | --- |
| "Flowers", canvas, oil, 69õ50, 1997 | "Flaxs" canvas, oil, 50x60. 1989ã. | "Grandmother" canvas, oil, 122õ88, 1991ã. |
| | | |
| --- | --- | --- |
| "Ural's mountains" canvas, oil, 60,5õ71,5, 1993ã. | "City Landscape", canvas, oil, 90x64. 1971. | "Old Ekaterinburg", canvas, oil, 64õ74,5, 1990 |